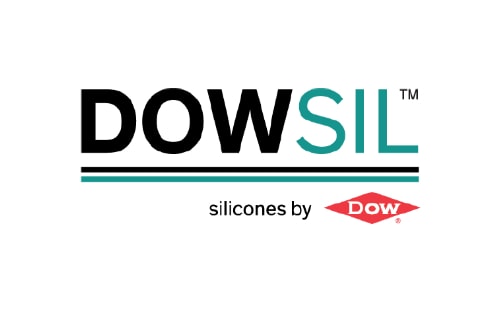 DOWSIL™
Since its early pioneering research in silicones, DOWSIL™ has gained the experience that has made it a leading authority in silicones worldwide. DOWSIL™ adhesives and sealants, play a key role in helping industry meet the needs of the future.
DOWSIL™ Industrial Adhesives and Sealants.
– Elastomeric adhesive
discover more
DOWSIL™ Electronics Protection Products
– Electronics adhesive
– Resins and encapsulants
– Dielectric gel
– Conformal coating
– Thermally conductive paste
– Thermally conductive adhesive
– Gap filler
discover more
DOWSIL™ Adhesives and Sealants
Many components in the automotive, electronics, electrical and engineering industries require sealing or gaskets to protect against dust and moisture or to prevent gas and liquid leakage.
Typical characteristics of Dowsil sealants are:
Excellent resistance to prolonged compression set, even at extreme temperatures
Good adhesion to all substrates
Long-term stability over a very wide temperature range ( -60°C to > 200°)
Resistance to oil, water, refrigerants, detergents and many other chemicals
Resistance to various climatic factors (UV, ozone, oxidation)
Excellent electrical properties
Low flammability and toxicity near heat sources
Do not require solvents during the process.
All products for Dowsil
Filter products by their attributes: brand, technology, applications…
Discover
DOWSIL™ Electronics Protection Products
DOWSIL™ electronics adhesives have always been recognized as the world leader in silicones. The Electronics Division is entirely dedicated to the development of products and technologies dedicated to the world of electronics, starting from semiconductor production to the assembly stage.
In electronics, silicones are preferred for the following characteristics:
excellent dielectric properties
excellent weathering resistance
stability over a wide temperature range
good adhesion to a wide variety of substrates
lower stresses on components
resistance to ultraviolet radiation and chemicals.
The products can be used for applications in modules, connectors, sensors, PCBs, and many more. The DOWSIL™ range includes:
Electronics adhesives, designed for component clamping, joint sealing and protection of delicate components
Silicone Conformal Coatings for protecting printed circuit boards from moisture, contaminants, mechanical abrasion, thereby preventing short circuits and increasing board life. Products conform to the circuit board while protecting it for a long time
Silicone-based encapsulants and gels designed to electrically insulate and protect electronic components from harsh chemicals, mechanical stress, and external tampering.
The gels are particularly suitable for sensitive components.
Heat-conductive materials developed to meet the ever-increasing needs to dissipate heat in components that are becoming smaller, more powerful, and faster. DOWSIL™ thermal conductives are available both in 'wet' form, i.e., to be cured, and in film or mat form.
All products for Dowsil
Filter products by their attributes: brand, technology, applications…
Discover
Other DOWSIL™ Applications
DOWSIL™ silicone fluids are useful at high temperatures, such as as bases for special lubricants or diathermic oils. Silicone compounds act as release and protective agents, used for electrical connections, O-rings and more. Benefits include longer service life, reduced costs, increased productivity and reliability under harsh conditions.
In the solar panel and photovoltaic device industry, DOWSIL™ silicone products improve efficiency and durability. They are used as protective coatings, adhesives and sealants during assembly. These silicones are ideal for solar and photovoltaic panel applications, withstanding the sun's relentless rays year after year.